The Elmtree property is located in northern New Brunswick within the Bathurst Mining Camp and approximately 20 km northeast of Bathurst (Figure1).
The Elmtree property comprises 49 mineral claims covering over 1000 Ha and contains three separate gold deposits defined by diamond drilling. These deposits are the West Gabbro Zone (WGZ), Discovery Zone (DZ), and South Gold Zone (SGZ) (Figure 2). Additionally, there are several skarn-type base metal occurrences north of the gold zones on the property.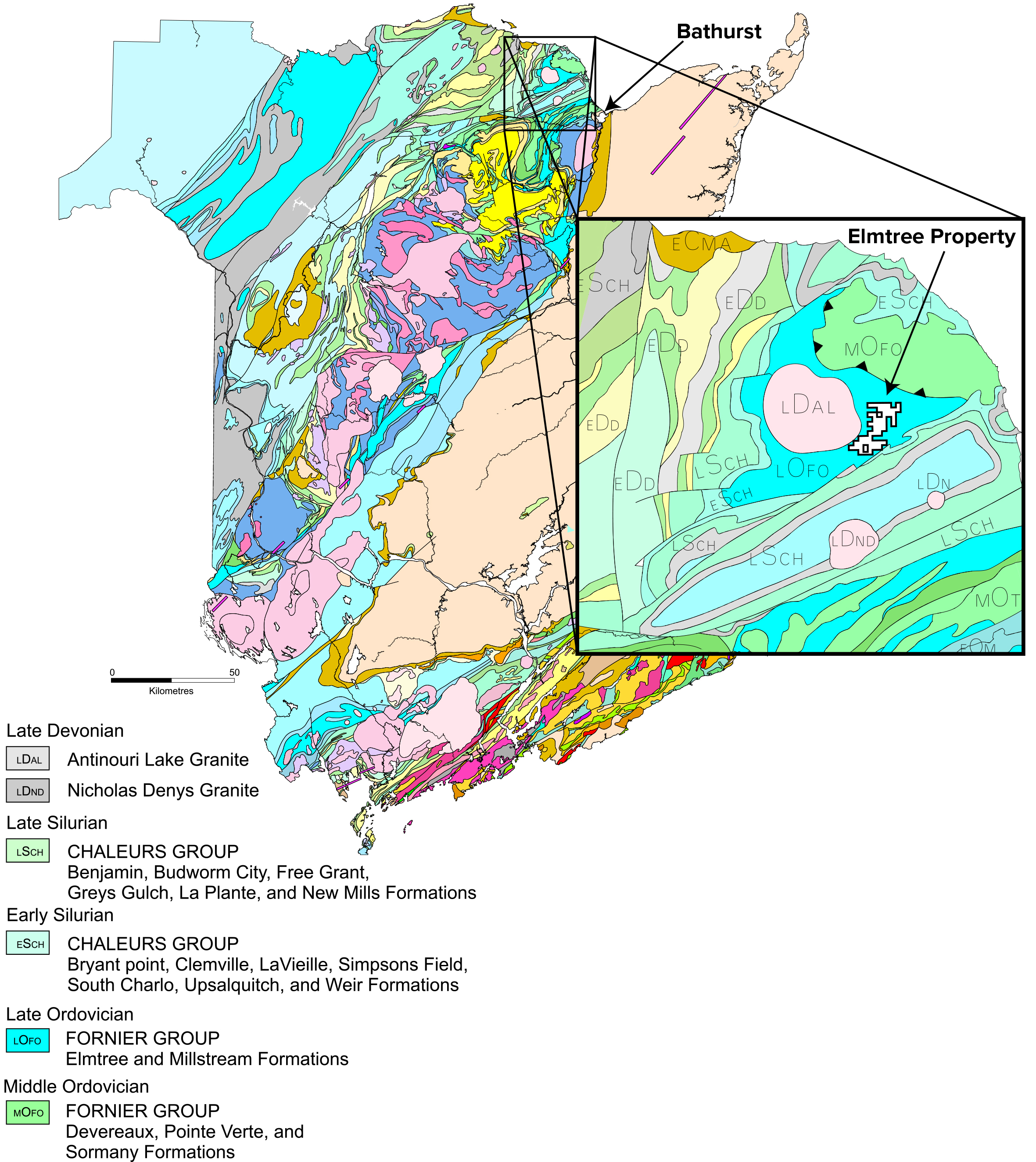 Figure 1 – Regional Map showing the property location
The West Gabbro Zone occurs within a hydrothermally altered and sheared gabbroic body defined by historical drilling and trenching over a strike length of more than 350 m. Drilling shows gold mineralization extends to a minimum of 200 m down-dip, and ground geophysical survey data suggest thicknesses from several to 45 metres. Gold mineralization is associated with zones of heavy alteration and silica flooding. Sulphide minerals, including arsenopyrite, pyrrhotite, and pyrite with subordinate chalcopyrite, sphalerite and stibnite, locally represent up to 25% or more of these zones.
The Discovery Zone consists of multiple Au-bearing quartz-sulphide veins hosted by variably sheared and altered clastic sedimentary rocks of the Elmtree Formation or Chaleurs Group. Mineralization commonly occurs associated with contacts of steeply-dipping, Devonian felsic dykes or altered mafic intrusive rocks. The shear zones hosting these rocks often mark the unconformable contact between Ordovician and Silurian strata.
The South Gold Zone is approximately 175 metres south of the WGZ. Mineralization is associated with quartz-sulphide veining in hydrothermally altered Silurian siltstones and fine sandstones. Bleaching, sericitization, and silicification of the host rock are the most common forms of alteration and occur along zones of brittle and (or) ductile shearing associated with the Elmtree Fault system. The sulphide assemblage within the SGZ consists of arsenopyrite, pyrrhotite, pyrite and trace to minor amounts of base metal sulphides or sulphosalts. Sulphide concentrations locally reach sub-massive to massive levels (30% to +70%). Drilling results define a variably continuous strike length for the SGZ of ~500 m with mineralized shear/vein sections up to 40 m wide.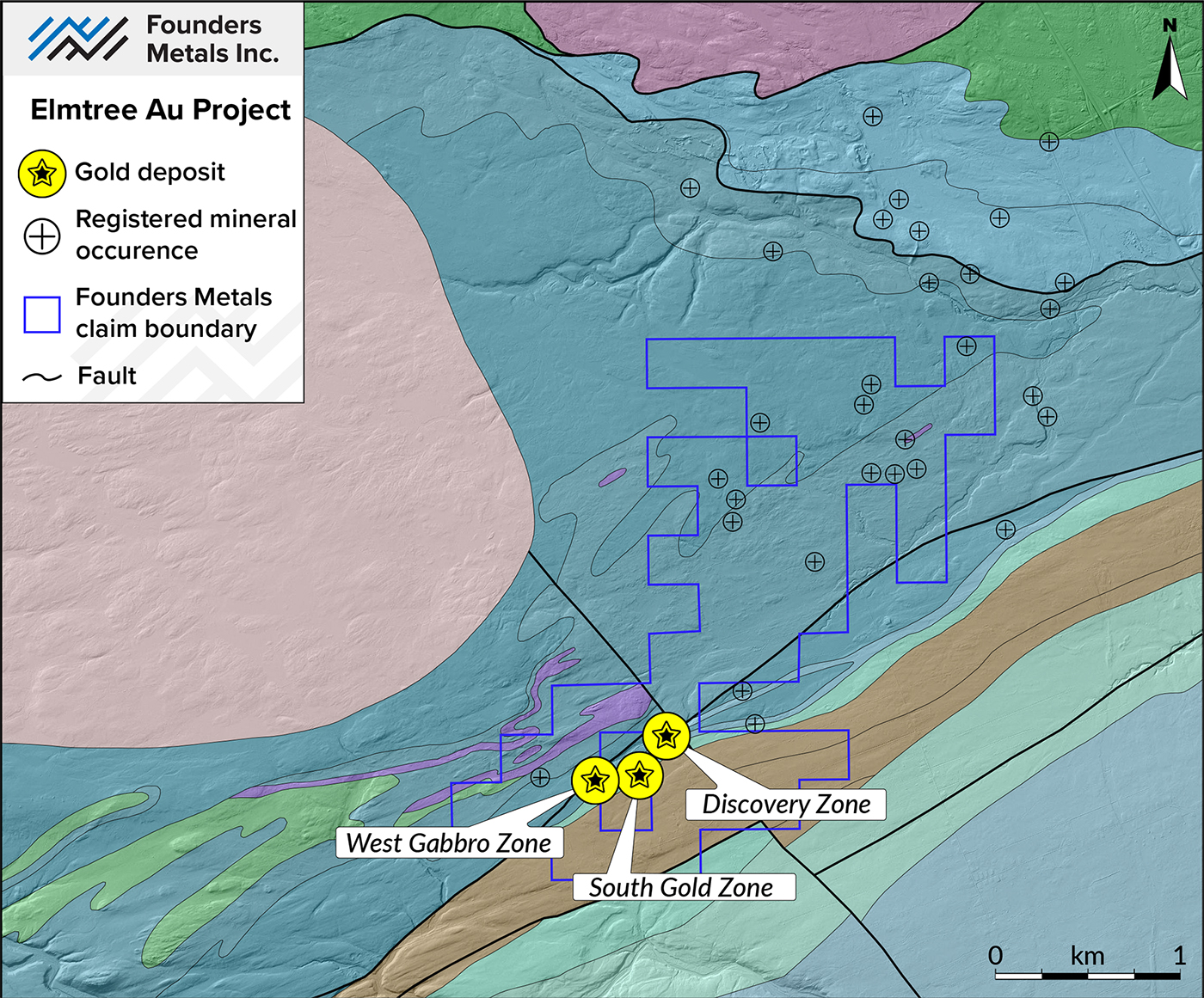 Figure 2 – Elmtree property map
2011 43-101 Resource Estimate
| | | |
| --- | --- | --- |
| West Gabbro Zone | indicated | 1,611,000 tonnes @ 1.91 g/t Au |
| | inferred | 2,053,000 tonnes @ 1.67 g/t Au |
| Discover Zone | inferred | 741,000 tonnes @ 1.18 g/t Au |
| South Gold Zone | inferred | 2,367,000 tonnes @ 0.74 g/t Au |
Qualified Person
This website's technical content was reviewed and approved by Michael Dufresne, M.Sc., P.Geol., P.Geo., a consultant to the Company, who is a qualified person defined under National Instrument 43-101.